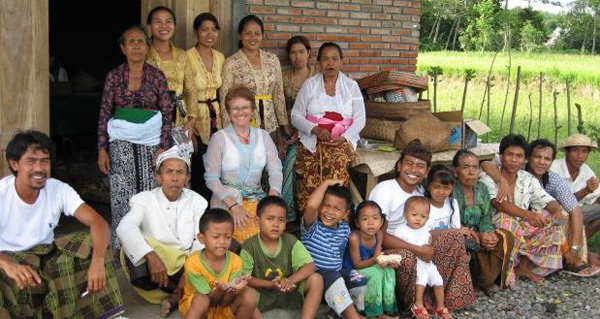 Why "POP"?
Swallow House Trading, initiator of Pesalakan Organic Project "POP", is located in Pesalakan, a small village in Pejeng Kangin, Ganyiar Bali, just 20 minutes NE of Ubud. In 2004, Swallow Guesthouse, was established for a Swallow preservation project and nest cultivation by dreamer Wayan Tagel and Suzan Badgley, his sponsor.
The Bag Started it all…
During winter visits to the Swallowhouse trying to entice the birds to roost, I began to pick up the plastics found thrown on the walking paths through the rice fields and in the water ways called Subak. Finding it odd that the locals would laugh at my action and point out another piece of plastic to watch me pick up: Why did they not find it dirty or embarrassing I wondered…
Today, Bali is in a crisis situation, the water is decreasing and what is left, is over the international acceptance level of contamination. Something needs to be done! We're happy to learn that the Government is aiming to have Bali a Green Island by 2013… but that date has passed!! Last night there was a very heavy rain storm; today, the streets are covered in mud and… plastic waste material.
Taking into consideration that not too long ago, the banana leaf was the "bag" to hold the fresh organic produce from the market, to put food in for consumption, and, then thrown onto the ground to decompose back into the soil, one of the five elements on the Balinese spirituality (LINK TO Balinese Concept of Harmony TRI HITA KARANA). The action still remains alive; the "bag" has changed, brought by outside influences and conveniences of modernity. Swallowhouse is now Swallow Guesthouse hosting international clients from around the world who want to experience the REAL Bali. Most are surprised by the amount of waste material found on this otherwise extremely beautiful "Paradise" island. "POP" Pesalakan Organic Project was formulated by Swallow House Trading August 2012. "POP" aims to bridge modern influences with ancient methods and spirit to provide a healthier environment for the visitors and the generations of Balinese to come.
2013 was a starting point, a turn backwards in some environmentalist's minds to the traditional ways of farming, back to how it was before the government enforced farmers to use chemically induced pesticides and fertilizers.  Starting last rice planting cycle, our Banjar received several tons of fertilizer donated from a joint venture between the government and Temesi Recycling, Bali's first waste refinery located in the Ganyiar regency.  Tossing the enriched pellets onto the green fields, farmers smiled at me now knowing what 'organic' means, the word I kept saying in a questioning manner over the years, pointing at their fertilizer bags in their broken down wheel barrows and spray cans strapped to their backs as I walked the foot paths filling my plastic bags with new and decaying plastic waste hoping this action would arouse interest.
Today organic interest is really aroused in our tiny Banjar:
One of 100 lucky Banjars selected in Bali for the government sponsored Simantri, an organic rice growing program that started in 2011.  Bamboo was cut into fencing to house the project; 24 cows arrived and fed fresh cut grass; and, now, waste material collected, turned into natural pesticide, fertilizer for the sawa rice fields, and Bio-fuel for lights.
Combined with their daily ancient spiritual relationship to the five elements of life, soil, water, fire, metal and wind, we should be well on our way! But, as with all countries, environmental education and waste management programing is needed in the local schools and community.
"POP" is assisting!
A positive movement forward into past methods of natural cultivation and sustainable community living is exciting.
"POP" aims to:
Expose Pesalakan Simantri Project to foreign visitors, so influential interaction, global understanding, will develop for the future health of the Subak and all those who eat the produce.
Assist farmers in selling their organic produce to organic markets restaurants and private villas needing quality, fresh produce to meet demands by foreigners. (visit now the Organic Markets in Ubud at Pizza Bagus on Saturday and, Sopa on Wednesday) Simantri Poster
Provide alternative methods and material for the local markets to reduce the amount of plastic "sold" with products
Continue to sponsor waste removal service by Eco Bali Recycling (www.eco-bali.com) a reputable, honest removal service (bypassing the illegal dumping that is happening down the street!!)
Bring qualified English educators and environmental learning material into the classrooms to work with local teachers to provide solid environmental and English conversation programs.
The word plastic is understood and with gestures I usually manage to explain that it is not good for our food and for our children. I notice elder people, maybe shy about the language barrier, asking their neighbours to find out if they know what I am up to. Some people point at my collection bag asking: "plastic?" When I confirm they say: " Plastic. No good!" Now it is usual for several people to make a remark and smile where initially they looked puzzled. And occasionally someone says; "thank you!" And then one morning I walk along the path… and am surprised as there is hardly anything to be picked up! I like to think that maybe one or more of the local people also take a turn. – Marjanne from Vancouver Canada. Guest Oct. 2012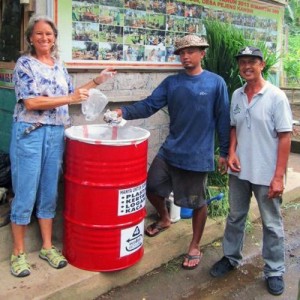 Support from: