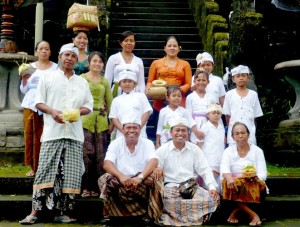 Putri and Wayan were born and raised in two separate villages in Pejeng, but within walking distance if you take the rice field path. Pejeng is the spiritual centre of the ancient Hinduism and Buddhism of Indonesia that came from Java and settled there in the 6th century uniting the religions into what is known today as Hindu Dharma.
They met 18 years ago, in 1997, in a temple. According to them, they glanced at each other from across the temple grounds and it was love at first sight!! A Romeo and Julia story, or the Hindu Rama and Shita love story that involves the caste system. Love prevailed and, Wayan's village chief granted permission for the wedding to be performed.
Now happily married with three children: Tiari the beautiful dancer who is studying hard to be able to be the first of her family to work abroad; Satria, the quiet one, enjoys his music and hopes to work on the cruise ships: and young Pujunga, who practices Kungfu and plays the traditional drums. Sponsorship through Swallow Guesthouse has enabled higher education to become a reality in the family.
Wayan grew up number five of his siblings and left home to gather money selling kites to tourists on Sanur beach. Here he was sponsored by a hotel to clean cars and eventually became a certified driver. Relocating back to his home in Tarukan to take care of his parents, the youngest son's responsibility, Wayan managed to move up the ladder and became one of the top taxi drivers for Champuan Hotel. He toured with dignitaries and royalty from various countries abroad and he learned a lot.
Today, despite encountering a stroke at the young age of 36, he continues to arrange tour programs for guests at Swallow Guesthouse, a joint dream with Suzan, and Bennu House, a new honeymoon villa in south Pejeng. Wayan is someone who loves to share his culture and eager to provide you with great service and a big sparkling smile.
Putri, his beautiful supportive wife, is Wayan's admirable companion. She proves time and time again to be extremely efficient in everything she does. Coming from a loving family herself, she cares very much for her children and extended family members. Traditional cooking was taught to her by Wayan's mom and she aspires to create delicious dishes for guests with her love and care. Now teaching other family members the recipes, Putri and team have quite the reputation and occasionally cater to expats in the Ubud area.
Ceremony obligation has Putri very busy but her dedication and pureness have given her spiritual reputation as well. It was her responsibility to carry on her head the Creator Vishnu God back to the family temple during the 100 year temple ceremony.
Swallow Guesthouse guests are in very good hands and their needs will be looked after by two very dedicated individuals with passionate hearts.