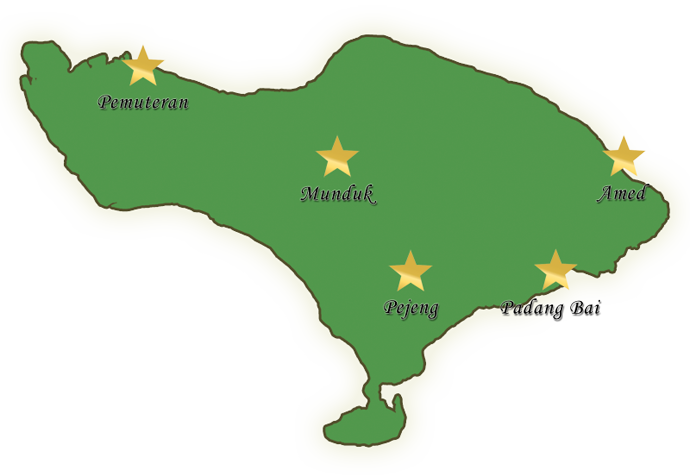 Ancient Kingdom Spirit Tour Locations
Discuss with Wayan or Suzan your selections from the suggested lists below. Our goal is to provide you the authentic Balinese culture and spirit through cleansing, purifying, meditation and ritual.
A) Pejeng, Tampak Siring and the Pakiresan Valley
Tirta Empul – Pray at the temple and perform a water purification ritual alongside Balinese at the holy springs
Gunung Kawi – Meditate by the rock niches at the royal spirit-houses of ancient Balinese kings and queens.
Goa Garba – Feel the serenity, alone, at a less-visited rock temple and holy 'weeping tree' spring.
Goa Gajah – Explore a Shiva-Buddha sacred site inside the 'elephant cave' in reverent silence, cleanse in the springs and, meditate at the Buddhist temple ruins
Gunung Kawi Spring Temple – Purify yourself and pray at the reflective Holy Waters with the coy fish, a beautiful, less-touristy, quiet temple-spring complex.
Sebatu Holy Springs – Loose yourself in the jungles at Champuan, a meeting of three rivers and waterfall-spring. Find the sacred 6th century relief temple across the river. A secret mostly visited by local Balinese who gather water and cleanse in the bath under a giant Banyan tree.
Pura Taman Ayun – The elegant and exquisite royal Mengwi garden-temple and pools, built to symbolize the mythological home of the gods called Mount Meru, "Floating in the Cosmic Ocean"
B) Mt. Batur Volcano and Lake
Lake Batur – located in the north central region of Bali, is an important shamanic area with several important temples and amazing volcanic views.
Penelokan – the 'Place for Seeing' the volcanic active Batur Crater of Mount Batur.
Pura Ulun Danu Batur – the North 'directional' temple of honors the lake Goddess Dewi, who looks after the Subak, a World Heritage rice field irrigation.
Songan's Pura Ulun Danu Batur – an older temple dedicated to Dewi Danu located inside the Batur crater.
Pura Tegeh Kuripan – a quiet ancient temple site and Bali's highest temple, is located on Mt. Penulisan, part of the Batur crater rim.
Experience Sacred Balinese Ceremonies and Offerings
On the island with over 10,000 temples, "Every day is ceremony day in Bali!" Balinese spend over one-third of their time preparing for and participating in spiritual ceremonies. Learn about these Sacred Balinese ceremonies with your guide Wayan who will teach you how to wear the traditional "Temple Wear", what temple etiquette is and how to pray. Learn from Putri, his wife, how to make the elaborate offerings in their home.
Please ask Wayan and Putri love to share their culture and will try their best to answer your inquisitive questions.
You are welcome to attend:
CEREMONY FOR GODS (ie: Goddess Sara Swati of Wisdom, Kalungan, Kuningham, Nyepi, and Odalans temple anniversaries)
PEOPLE CEREMONY (birth, tooth filling, wedding, cremation), for Balinese Rites of Passage involving the ancestors.
CEREMONY FOR NATURE (Full and New Moon, Tree, Water, Wind, Soil, Metal).
---
FAQs: Answers To Questions
1. Wayan will arrange the best day and time to participate in ceremonies especially those involving High Priests for purification rituals that balance Good and Evil spirits.
2. Tours are 4 – 6 hours for full- day activity combinations.
3. Educational aspects of the Balinese culture and spirituality will be provided by the tour guide. Additional reading material is available on our website (Guest Resources).
4. Visits to Spirit Guru's and Traditional Herbal Healers called Balian must be discussed with Wayan in detail so he can best approach the Balian on your behalf.
5. Please book tours 24 hours in advance, especially if you want to include participation in a ceremony.
6. Out of respect for local customs, women should not be menstruating when visiting temples. If you plan on attending a cleansing ritual in the sacred bath, bring along your bathing suit and towel (one piece bathing suit for woman or shorts and t-shirt – no bikini)
Price includes:
A/C transportation
English-speaking guide
drinking water
sarong and sash (to take home!)
offerings
entrance fees
Fees for a healing and consultation by Balian are separate and vary by Balian.
A suggested donation for ceremonies is 50,000 – 100,000 IDR/group. Because we are more intent on sharing spirit and karma, all pocket books and lifestyles are welcome.
| | |
| --- | --- |
| Number of people | Price/person |
| 1 | 550,000 IDR |
| 2 – 4 | 350,000 IDR |
| 5 – 8 | 250,000 IDR |